Water Crisis A Bigger Threat To Pakistan Than Terrorism: Research
The World Economic Forum (WEF) has rated water crisis in Pakistan as a bigger threat to the country than terrorism. This was shared by journalist and research Faseeh Mangi who tweeted key points of his research on water usage and crisis in South Asia.
According to a 2018 report published by WEF titled 'Regional Risks For Doing Business 2018', the top risk for investors in Pakistan was the growing water crisis, which was ranked higher than terrorism, inflation, failure of urban planning and failure of infrastructure.
Mangi, in a Twitter thread, discussed the findings of his 20,000 page research work. Here are some key points:
Pakistan uses more than what is needed for agriculture
He said that Pakistan used 90% of its water for agriculture which, according to him, was unnecessary as 'flooding crops with water' was not needed to get maximum output. Other countries, he added, used 70%.
'Pakistan's dam quantity disproportional to its population'
Mangi also said that Pakistan had a total of 164 dams which were insufficient to cater the needs of its 220 million odd population. In comparison to Pakistan, India has 5,100 dam (which is the third highest number in the world), Iran has 541 and Thailand has 244.
Pakistan among top 10 countries with highest water withdrawal
The researcher said that Pakistan fourth among the top 10 countries with the highest water withdrawal.
Water withdrawn is the total volume removed from a water source such as a lake or river.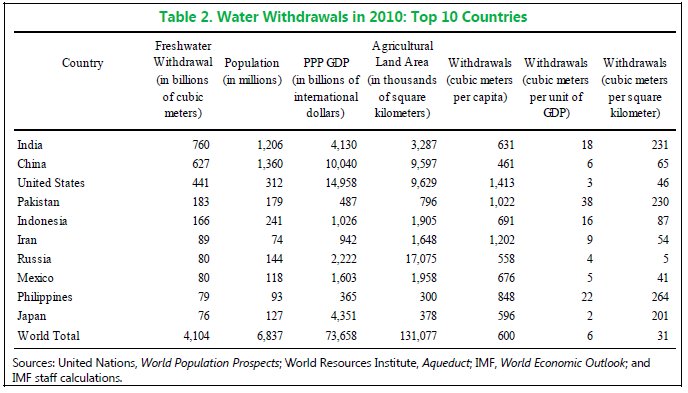 Pakistan's withdrawal rate was 183 billion cubic metres in 2010. India was ranked first with 760, China second with 627 and United States with 441.
Pakistan has 6th most water resources
According to Food and Agriculture Organization, as cited by Mangi, Pakistan is the country with sixth most water resources. Bangladesh has the highest number with 7,530, Nepal is second with 7,253, Sri Lanka is third with 2,539, Afghanistan fourth with 1,885, India fifth with 1,443 and Pakistan ranks sixth with 1,277.
Many South Asian countries to face extreme water shortage by 2040
In a Bloomberg article authored by Faseeh Mangi, Chris Kay and Archana Chaudhry, it was warned that many countries in South Asia might face extreme water shortage by 2040.
"Most South Asian nations are heavily dependent on agriculture that consumes the majority of fresh water supply. Rice and sugarcane are grown by flooding the entire area with more than four feet of water" the article said, citing excess usage of water by agriculture as one of the reasons.
It also referred to water dispute between Pakistan and India to affect the region.
PTI adamant to construct more dams in Pakistan to counter water woes
To counter Pakistan's water woes, the current Pakistan Tehreek-e-Insaf (PTI) government is fully committed to construction of dams.
To this end, they launched a nationwide fund raising campaign, while Prime Minister Imran Khan also urged overseas Pakistanis to donate.
Have something to say about the story? Write in the comments section below
Naya Daur Media (NDM) is a bi-lingual progressive digital media platform aiming to inform and educate Pakistanis at home and abroad. Subscribe to our YouTube channel here Follow us on Facebook   Twitter and Instagram