Why Doesn't Anyone Point Fingers At Men: Mehwish Hayat Slams Critics
Pakistani actress Mehwish Hayat was named among people who will be presented with Tamgha-e-Imtiaz this year, and that has caused quite a stir on social media.
People have been making ridiculous statements against Mehwish. Some have gone as far as saying that the actor received award due to 'contacts' or because she is a 'pretty woman' and 'is bestowed with a civil award', but Mehwish says she has had enough of it.
Speaking to journalist Mubashir Lucman on his talk-show, she announced that she would take legal action against a news outlet which in its report mentioned that Mehwish was probably receiving the award because she had 'contacts with a PTI leader'.
https://t.co/9oJI3pa2bb@mubasherlucman 's show featuring some of the industry's most illustrious personalities' views on wat – in spite of more pressing issues around the world we shud be focussed on – seems to have become a big issue "Me being bestowed with a civil award."🤷‍♀

— Mehwish Hayat TI (@MehwishHayat) March 18, 2019
Mehwish said that people had the right to argue whether I deserved to receive the award or not, but they cannot point fingers at her characters. "People can talk about whether I deserve the award or not, they have the right. But it's ridiculous to point fingers at my character. That should not happen."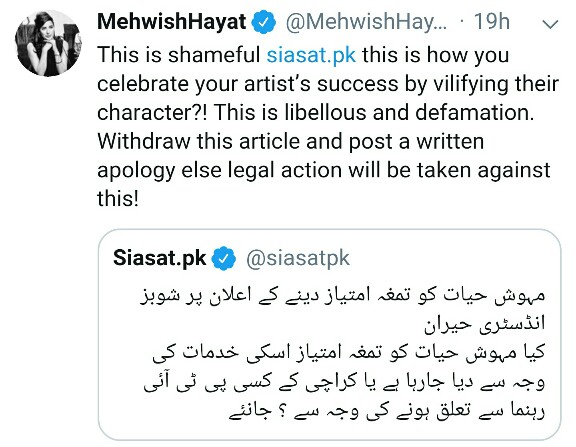 The Punjab Nahi Jaongi Actor actor added that every time a female is presented with a prestigious award, questions are raised over her character or controversies are stirred, but if a man receives a award, no one bats an eye. She said pointing fingers at her character was crossing the limit.
She said that Pakistani women are extremely talented but keeping in view the criticism herself and many others face every day, Mehwish says there is still a long way to go.
Have something to say about the story? Write in the comments section below
Naya Daur Media (NDM) is a bi-lingual progressive digital media platform aiming to inform and educate Pakistanis at home and abroad. Subscribe to our YouTube channel here Follow us on Facebook   Twitter and Instagram