PTM Leaders Mohsin Dawar, Ali Wazir Temporarily Banned From Entering Balochistan
Pashtun Tahaffuz Movement (PTM) leaders and MNAs Mohsin Dawar and Ali Wazir were temporarily banned from entering Balochistan due to prevailing circumstances.
The two were on their way to attend funeral procession of PTM member Arman Loni, who was allegedly killed during a sit-in in Loralai on Saturday. PTM claimed that Loni was killed in a police crackdown.
Quetta SSP operations, however, said that no signs of injuries or violence were reported in post-mortem examination report.
Dawar took to Twitter and said that he and fellow parliamentarian Ali Wazir were not being allowed to enter Balochistan as a means to stop them from attending Loni's funeral.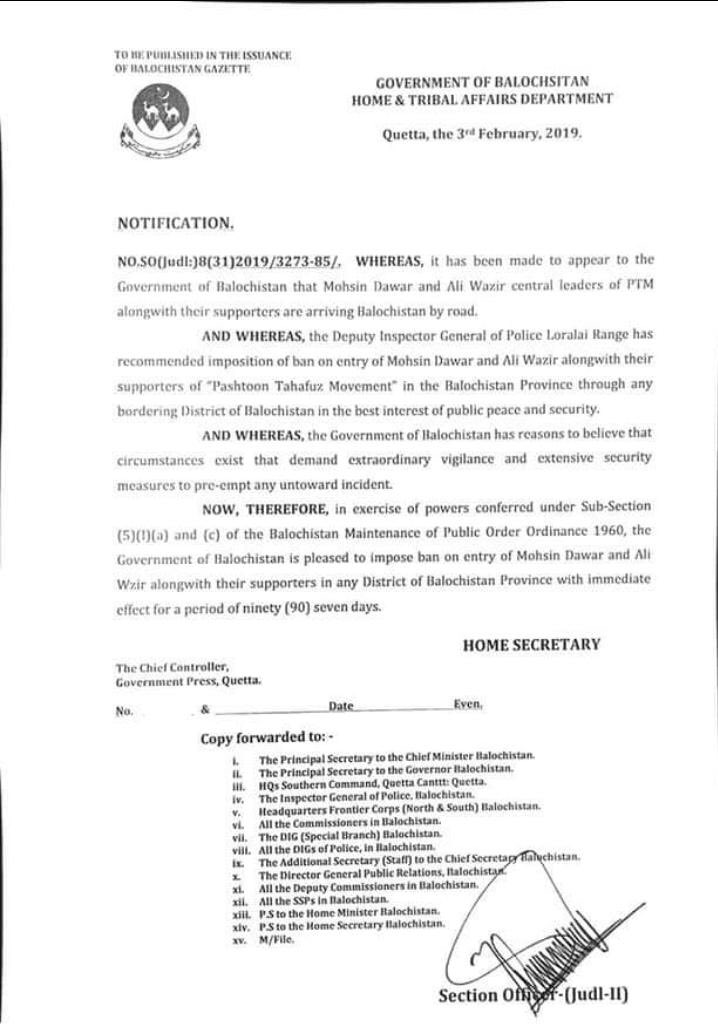 The shared notification noted that the Balochistan government "has reasons to believe that circumstances exist that demand extraordinary vigilance and extensive security means to preempt any untoward incident".
Journalists, activists and politicians among others condemn Loni's 'murder', demand justice

Balochistan CM takes notice of Loni's death, orders report within 48 hours
Balochistan Chief Minister Jam Kamal Khan Alyani on Sunday took notice of Arman Loni's death and has directed commissioner of Zhob district to produce a report within 48 hours.
Have something to say about the story? Write in the comments section below
Naya Daur Media (NDM) is a bi-lingual progressive digital media platform aiming to inform and educate Pakistanis at home and abroad. Subscribe to our YouTube channel here Follow us on Facebook   Twitter and Instagram