'Demoralized And Shocked': Senior Sindh Police Officials Submit Leave Applications
A number of senior police officials of Sindh Police have applied for leave as they are dealing with "shock" from the "episode of registration of FIR against Capt (R) Safdar. These officials include 2 additional inspectors general (AIG), 7 deputy inspectors general (DIG) and 6 senior superintendents of police (SP). The leave applications submitted to Sindh's Inspector General of Police Mushtaq Mahar are claimed to represent widespread discontent in the police over the manner of Capt (R) Safdar's arrest.
Furthermore, a thread was posted from the Twitter handle of the Sindh Police which noted that "IG Sindh decided to proceed on leave and subsequently all ranks decided that they would also apply for leave to protest the humiliation meted out to Sindh police. This was a spontaneous and heartfelt reaction and made on an individual rather than a collective basis, because every single member of the department felt an acute sense of disrespect."
This comes a day after PML-N leaders claimed that Chief Minister Sindh Murad Shah told them that police were coerced into arresting Capt (R) Safdar by breaking into the hotel room where Maryam Nawaz and her husband were staying. On the refusal of the police authorities to comply with this, according to the allegations, the Inspector-General of Police was kidnapped by the paramilitary Rangers.
Federal minister from the PTI Ali Zaidi had described these allegations as a "nonsense narrative."
Army Chief General Qamar Javed Bajwa has taken notice of the "Karachi incident" and ordered an inquiry, announced Inter-Services Public Relations (ISPR). The COAS has asked the Karachi Corps Commander to "immediately inquire into the circumstances to determine the facts and report back as soon as possible", the ISPR statement says.
Minutes before the ISPR statement, PPP Chairman Bilawal Bhutto-Zardari said that the "institutions" should investigate the circumstances under which Capt (R) Safdar was arrested.
In identical leave applications submitted to Sindh IGP, the police officials claim that they find it difficult to "discharge duties in a professional manner" due to the stress caused by Capt (R) Safdar's arrest. The letters say that "all ranks of Sindh police have been demoralised and shocked."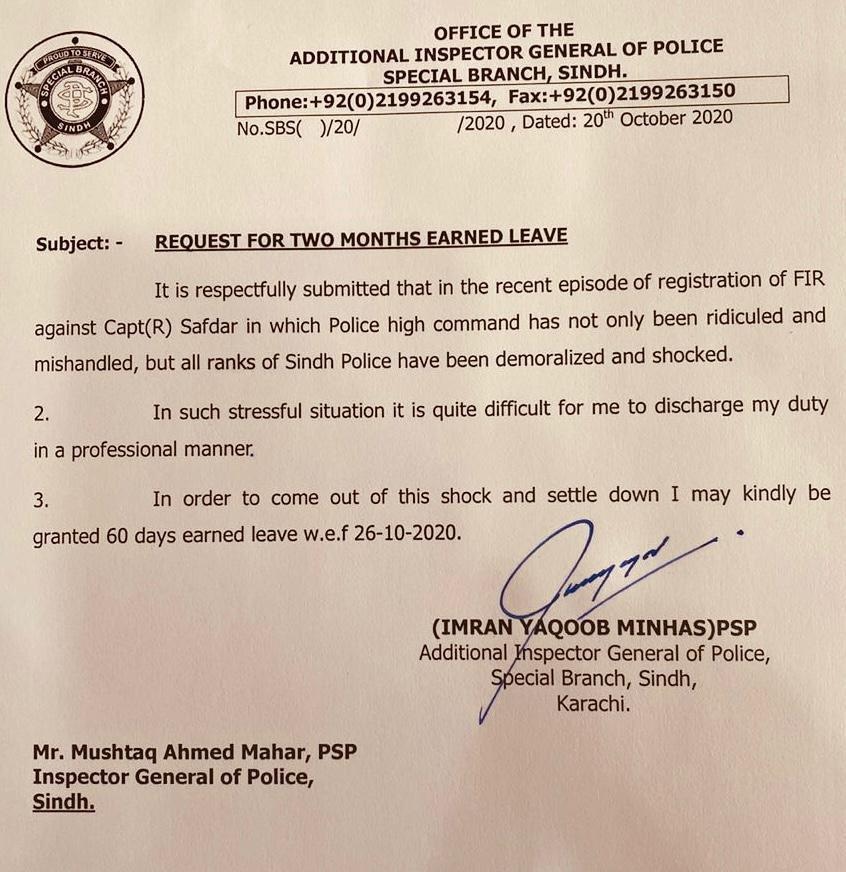 Naya Daur Media (NDM) is a bi-lingual progressive digital media platform aiming to inform and educate Pakistanis at home and abroad. Subscribe to our YouTube channel here Follow us on Facebook   Twitter and Instagram