'Neither Me Nor Modi Can Control War Once It Escalates': PM Reiterates Urge For Peace
Prime Minister Imran Khan has reiterated Pakistan's stance for peace and stability in the region saying that the ongoing tensions between Pakistan and India must be resolved with talks.
"I had said it before and I will say it now, we need to resolve the crisis via talks. If war escalates, neither myself nor Narendra Modi would be able to control it. It is easier to initiate wars, but what happens next can never be predicted," he said while addressing the nation in the wake of the Balakot attack.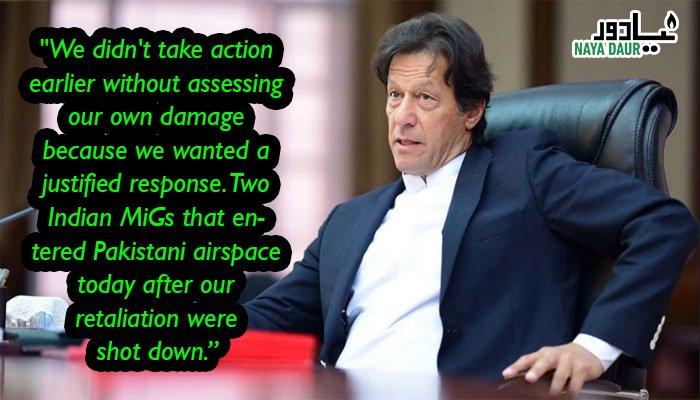 On Tuesday, Indian jets intruded into Pakistan's territory and claimed to have hit 'terrorist hideouts' in Balakot region. However, no casualties or property damages were reported. DG Inter Services Public Relations (ISPR) Major General Asif Ghafoor strongly rejected Indian claims and called for India to ready itself for a surprise.
A National Security Committee (NSC) meeting was called on Wednesday to this end. Khan, briefing the nation about the situation, reiterated Pakistan's stance for peace. "I ask India: with the weapons you have and the weapons we have, can we really afford a miscalculation?" questioned the PM.
"We did not take action earlier without assessing our own damage because we wanted a justified response. Two Indian MiGs that entered Pakistan's airspace earlier today were shot down," Khan continued.
It was our plan to not cause any collateral damage, and not to cause any casualties.We simply wanted to show capability. Two Indian Migs crossed Pakistan's Borders, and we shot them down.I want to now address India and say let sanity prevail. #BetterSenseShouldPrevail pic.twitter.com/HsicyaqgUu

— PTI (@PTIofficial) February 27, 2019
Addressing a press conference in Rawalpindi earlier today, DG ISPR said that Pakistan has carried out 6 attackswithin its territory to send message to India that Pakistan is ready to defend its land. "We had no option but to respond to Indian aggression," DG ISPR said.
Indian Wing Commander Abhinandan Arrested By Pak Forces
"We had decided that we would not hit any military targets and would not allow loss of lives, and we have done that. We can do everything and anything to defend our homeland but we would not for the sake of peace and stability in the region," he said.
He said that Pakistan does not want war and would not put peace in the region at stake. "The government, armed forces and people of Pakistan have always send the message of peace to India. War is not the solution and India must think with a cool head. There are no victors in war," Asif Ghafoor said.
Naya Daur Media (NDM) is a bi-lingual progressive digital media platform aiming to inform and educate Pakistanis at home and abroad. Subscribe to our YouTube channel here Follow us on Facebook   Twitter and Instagram